TONY BEEBE
Here is a little gift. It's photos of Marco & myself after a concert, relaxing and having some drink and food. Yes, I know, we look an awful lot alike. At times it can be embarrassing for me. Now you will see why we refer to each other as "Brother"!
Once I told Marco that I was going to dye my hair gray, so that people would not confuse us. His reply was " I like that, I'll dye mine gray also" We all just laughed.
You can find these hidden photos (they are just for this message board) at http://www.marcomusic.com/marco&tony.html
Tony


COLLEEN
Wow, Tony! You're pretty much twins. So where can we download a little of you singing "Hermano" so we can compare voices?
Say -- my family's picture is already on-line, if you want to see us. My ex-husband is a photographer/astronomer, and if you go to www.icstars.com, take the Home World link, then the "All my ex'es don't live in Texas" link -- he has photos of my family and all his other ex-wives.
Colleen Smith-Winter-Truelsen currently lives in California with her husband and three children.


RAFAEL O
Well, I guess you weren't joking when you said you look alike! I'm sure people confuse you all the time. Thanks very much for the pictures. I've taken some pictures of him in concerts myself, but I really enjoy pictures which show him as a regular person. I think it helps us realize that they (celebrities) are real people also. I have to admit that I thought you looked different Tony.
I'd also like to thank Jose for his previous response. He is right that all of you who participate here on a regular basis make this a great web site and I also hope you continue to be active posters. I forgot to thank Ellen for welcoming me here when I first posted. You give nice greetings to everyone and help us all feel at home. Adios Amigos!
I think it is great how some of the other regulars here are starting to post web sites where we can see their pictures. I think this helps us know what each of us looks like and makes this message board a little more personal.
Anyways, here is the web site where you can see my picture. http://admin5.hsc.uth.tmc.edu/ishome/people/khale/interns/index.htm
Once you get there, click on participants and go down to Rafael Ortiz (My email says my last name is Ortega, but I didn't want to give my real name to just anyone on the internet). Once you click on my name, my picture will pop up. This is an internship I attended last summer, when I worked in a department helping them with accounting work. I am currently a graduate student at The University of Texas at El Paso.
Well, I hope more of you show us what you look like and make all of this even more fun than it has been. I love this message board and really wish I could have had time to add a link to my Marco web site to this message board, but for now I'll just tell everyone I can about it through e-mail. Thanks again Salvador and Morella!
Rafael Ortiz
University of Texas - El Paso


ELLEN & LUIS LOPEZ
Hi Tony! Cool pictures! Ya'll do look like brothers!
I'm sure the folks here wouldn't mind seeing more photos, of you and your wife, Marco and Cristian, and the new baby. We appreciate more than you know the time you've taken to spend with us. I'm sure I speak for the others when I say the little extras make us feel very special.
This is fun! I saw Rafael and Colleen. Ok, I have just begun a family tree homepage, just barely, so the only picture there is Ellen and Luis. If you want to see us, go to http://people.atl.mediaone.net/esummer. I have a lot of work ahead on this site.
Ok, Salvador and Morella, you're next.
Ellen and Luis Lopez at their wedding, 12/21/96.
Juan Manuel Gonzales
My name is Juan Manuel Gonzalez Medrano.  I was born in Cupareo, Guanajuato, Mexico.  Although it may sound incredible, I hadn't seen a PC in my life until I was twelve years of age, when I moved from Mexico to the U.S., back in 1991.

Well... my hometown, it's not a city at all... just a small village, I guess, but I have lived there more than half my life, and, it's so peaceful, quiet... ah.... and warm... that's why I love it so much... if I could, I'd go back...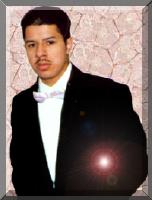 Carlos A.
Salvador and Morella, I must personally thank you for giving all of us a forum where we can talk about our favorite musician. Thank you also for welcoming me here and making me feel at home.

Like most everyone here, Marco's music moves my soul in a certain way that no other musician can. Each and every one of his songs brings back memories that are dear to me. I am 21 years old and I have grown up all of my life listening to Los Bukis; I remember when I was a kid, my dad had a collection of their LP's, and I was drawn to their music ever since. I can recall listening with him such songs as "Falso Amor", "Los Alambrados", "Te Tuve Y Te Perdi", and other hits. My dad was more into the cumbias that they sang back then, but I liked all of their songs.

As I grew up and Los Bukis converted into more of a romantic group, my dad stopped purchasing their albums, and I picked up where he left off. The first Bukis album that I ever bought was "A Donde Vas?"; I literally wore the LP out! My all time favorite Bukis song is off of that album, "Si Tu Te Fueras De Mi". I later began to buy all of their material on tape, and as time went on I bought all of their material on CD.

I have quite a collection of Los Bukis and Marco Antonio Solis products, everything from 8-tracks to videos. I was also able to purchase the movie "Como Fui A Enamorarme De Ti" a while back. It took me two years to buy all of their material on CD, and the older material was hard to find, but it was well worth it. What poses me as a challenge is that I live in Nebraska, where Latin CDs are difficult to come by. I had to wait until I went to Mexico (Chihuahua is where I'm originally from) to buy their material. Fortunately it is no longer like this thanks to online purchasing.

I have never seen Marco Antonio or Los Bukis in concert at all due to the fact of my locale. I hope Tony can help me out by telling me when Marco Antonio will be nearby. Omaha is about a four-hour drive, Denver is six, and Kansas City is a five-hour drive; but I am willing to travel to see him perform!

Anyway, thank you again for welcoming me to the message board; I'm sure that it is going to grow into something wonderful. By the way, I included a photo of me just in case you were wondering what I looked like. I have also brought my dad back to Marco's music; he has purchased the last two albums!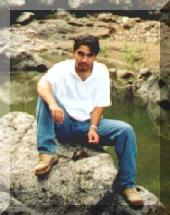 Carlos A.
Salvador & Morella
Way to go Tony; you sure know how to get the ball rolling, don't you?
Actually, we had toyed with the idea of a webpage with information about the regulars on the board, and pictures... We figured when there were enough people who were frequent visitors, we might toss the idea out; you all just beat us to it!
And we are glad that you did, because who knows how long it might have been before the Los Bukis Website Fan Club got their own webpage! So here it is, our gift to all of you...
You guys so often thank us for the website, and for creating a forum where we can all share our enthusiasm and devotion to the wonderful man whose music we love, and his fellow musicians....
It is our turn to thank you, for making the Message Board the kind of place we look forward to taking care of. Working on the website would not be much fun without the support and the gratitude that you all show us; we never dreamed that a simple project would bring us friends like you from all over the world.... it really is a pleasure and a joy to be your hosts in this cyberspace.
So thank you all... and here's to our future together! Please keep sharing your ideas and opinions, so this website will reflect a little bit of all of us... let's let the light of our love shine for Marco, and the whole world, to see.....




Oh yeah.... guess you want to see what we look like, right? Well, here's a taste... we'll have this picture linked soon to a page with both of us on it.. (Salvador is shy, so I'll go first... :)
| | | |
| --- | --- | --- |
| Back to the Los Bukis Message Board | Return to the Main Page | Send me Your Thoughts |